Cybersecurity
Let us help you minimize cybersecurity risks by protecting your business data and reputation.
Your Cybersecurity plan is no longer good enough
Protecting your business from disasters such as data corruption, fires, and floods have been the traditional mandate for IT professionals.  Unfortunately, it is no longer enough to keep you safe. There is an incredible amount of people out to destroy your business and steal your money and data.   They will launch attacks against you, your clients, family, and friends. This is why cybersecurity has now become essential.
Now more than ever, it is crucially essential to defend your business from cyber-attacks and build a fortress to guard and protect it. In other words, traditional Cyber defences no longer work. What was acceptable even just six months ago is no longer sufficient to protect you from cyber threats.
This is why Reis Informatica has invested heavily in developing our own Security Operations Centre.
Our ManagedCare: SecurityPlus is a SOC as a Service.  It is a fancy way of saying that you are getting a state of the art Cybersecurity Department.  This includes all talent, processes, tool stacks, and worldwide locations to protect your business for a fraction of the cost it takes to do it yourself.
Our services include:
.  24×7 monitoring from our offices around the world.
.  Reis Informatica does not outsource our operations to 3rd parties. We maintain our own three offices worldwide in Canada, Portugal, and Malaysia.
Log Analysis
. We collect logs from network devices and servers to analyze them and search them for possible anomalies.
Hunting for Hacker Footholds
Antivirus systems don't always work well, therefore we have systems that continuously scan yours for possible hacker footholds in your networks. When we discover something that doesn't look right, we will investigate it to determine if we need to leave it or sanitize the foothold.
Incident Response
. We will identify, minimize damage, and reduce cyber-attack costs while finding and fixing the cause to prevent future attacks.
Endpoint Visibility
. Beyond traditional antivirus systems.
. Behavioural-based detection looks for things that are not-quite-right.  Then we act on it to investigate the anomaly.
Threat Detection
. Using machine and human elements we analyze thousands of events in real-time across your network, similarly companies adopting a Work-From-Home policy will hugely benefit as the security travels with the remote computers.
Protect everything you built
From risk assessments to disaster recovery, we have you covered with a process that works: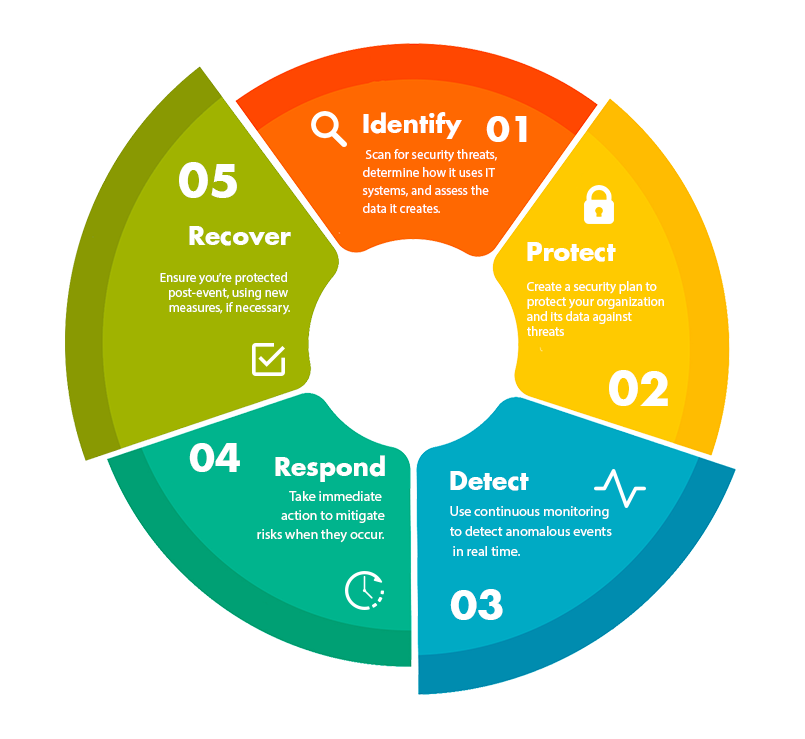 Worldwide, follow-the-sun monitoring
Get the service you need at any time, day or night, from our offices in Canada, Malaysia, and Portugal. It's coverage unlike any other.
Choose from
2 cybersecurity solutions
Above all, get cybersecurity that reflects your organization's unique needs. We'll help you assess and prioritize those needs if you're not sure where your network is most vulnerable.
This package is tailored to your operations.
This is the gold standard in cybersecurity care. This is a managed detection and response system that uses layered security, therefore, it's the best approach to protecting yourself from hackers. In addition, you reduce the risk of criminal activity on your computer networks.
Learn more about how our cybersecurity services can benefit your organization.