A culture for builders
Are you in search of a new career?  Reis Informatica is looking for applicants.  We offer contract, part-time and full-time employment.
Contact us today if you want to join an awesome team!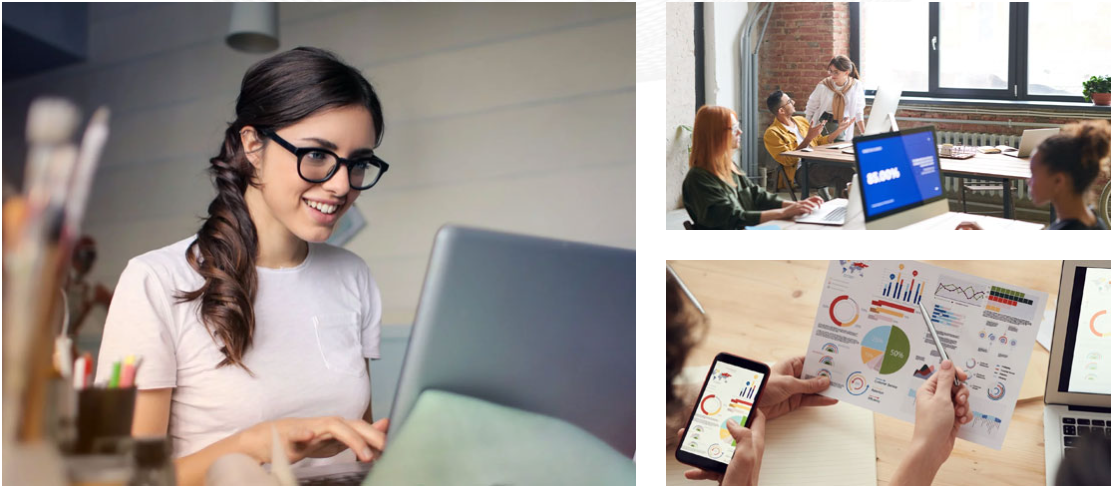 Why choose Reis?
Here's a small taste of what we offer:
Amazing Compensation
Reis Informatica offers competitive salaries and a minimum of three weeks of vacation. We believe in taking care of our people on and off the field.
Flexibility
Do you need to leaving early to pick up your kids from daycare? Do you have to come in late because you're getting new tires put on your car? No problem! You can work from home sometimes too.  We offer a hybrid approach and as a result, we want our employees to feel their best so when they come to work they can focus on success!
Appreciation
We provide special treats on your work anniversary and your birthday.  We enjoy regular company outings and team-building activities.  Above all, we help everyone stay connected.
Shared Wins
Little things can make you feel great on a daily basis.  For example, shared wins. That's why we have a horn at the office. If you have good news to share or you've closed a deal, everyone celebrates.
Professional development
Reis offers regular training to keep our employee's skills fresh and up to date. In other words, we want world-class skills to offer our clients and we want you to grow professionally during your time here.
We are seeking a highly motivated and organized individual to join our Reis Informatica as a Junior Account Manager. In this role, you will be responsible for developing and maintaining relationships with our clients, as well as identifying new business opportunities.
Responsibilities:
Build and maintain relationships with clients, ensuring their satisfaction with our services and products.
Identify and evaluate new business opportunities, and participate in the sales process as needed.
Work with the senior account management team to create and execute account plans.
Respond to client inquiries in a timely and professional manner
Collaborate with other departments to resolve client issues and ensure client satisfaction
Keep up to date with industry trends and technology, and share this knowledge with clients and team members
Meet or exceed established sales and revenue targets
Requirements:
Bachelor's degree or College diploma in a relevant field, such as Business Administration, Marketing, or IT
1-2 years of experience in a customer-facing role, such as account management, customer service, or sales
Strong communication and interpersonal skills
Ability to build and maintain relationships with clients at all levels
Organized and detail-oriented, with the ability to prioritize tasks and meet deadlines
Knowledge of the IT industry and technology trends is a plus
Ability to work independently and as part of a team
About Reis Informatica
Reis Informatica is a Managed Services Provider that has been helping Kitchener-Waterloo Region and Southwestern Ontario businesses manage their IT for over 15 years. We specialize in translating technology into business sense. We support our Canadian clients with our offices in Kitchener/Waterloo, Lisbon, Portugal, Malaysia, and Brazil for true Follow-The-Sun, 24/7 support. We also have our own Cyber Security Division focused on keeping our clients safe on the internet.
Reis Informatica offers peace of mind from the board room to the server room so businesses can focus on what they do best. We are a team of people with different strengths and backgrounds that work together to positively impact the lives of our clients, community, & each other.
Reis Informatica is an Equal Opportunity Employer and considers applicants for employment regardless of race, colour, religion, sex, orientation, national origin, age, disability, genetics, or any other basis forbidden under federal, provincial, or local law.
Job Types: Full-time, Permanent
Benefits:
Extended health care
Paid time off
Schedule:
Ability to commute/relocate:
Kitchener, ON: reliably commute or plan to relocate before starting work (required)
Application question(s):
Must be legally allowed to work in Canada.
Licence/Certification:
Driving Licence (required)
Work Location: Hybrid remote in Kitchener, ON

Brief Role Description:
You are a well-rounded and experienced IT Systems Engineer who will be responsible for Escalations and troubleshooting of issues escalated by L1 and L2 technicians.
What's this role about?
By being part of Reis Informatica's IT team, you will be responsible to handle escalations of complex issues and difficult problems that less experienced technicians could not solve.
This role is perfect for those who enjoy fixing problems and documenting how to solve them in the future. Someone who performs this role is also often a mentor and a teacher for L1's and L2's.
What will I be doing?
As a champion for enabling our clients through technology at Reis Informatica, these are a few of the things you'll do:
Troubleshoot and solve complex issues
Create How-To's and solution briefs and document your findings.
Ensure all IT devices and systems are in working order to optimize operations
Suggest better ways of doing things to relevant teammates
Work on Microsoft, Linux, Cisco, Fortinet, and other technologies
Bake Cyber Security and IT best practices into everything you do
Document new and existing IT processes and procedures
What are we looking for?
Certifications or extensive experience with Microsoft Servers, Cisco networking
Excellent English oral and written communication skills as this will be a client-facing position.
Very experienced with Fortinet, Juniper, Meraki, MDM, PKI, and IEEE 802.11 technologies.
Hypervisor and/or hyperconvergence technologies such as VMWare or Scale
At least four years at an L3 level (Senior level position) minimum of eight years of IT experience.
Working knowledge of Ticketing Systems (ConnectWise/Autotask etc.)
Experience providing IT support (Remote or onsite)
Extensive experience working with Windows Server, Azure, AD, Linux Mac hardware and software
Proven customer service experience
Are there bonus points?
Yes! We'll give your application extra credit if you have one or more of these:
Previous experience in a Managed Services or IT VAR environment
Mobile Device Management
Cisco CCNA, CCNP; Microsoft MCA, MCSE certifications
Powershell scripting knowledge
Job Types: Full-time, Permanent
Benefits:
Extended health care
Paid time off
Schedule:
Ability to commute/relocate:
Kitchener, ON: reliably commute or plan to relocate before starting work (required)
Application question(s):
Are you legally allowed to work in Canada? (Canadian Citizen or Permanent Resident)
Experience:
License/Certification:
Driving Licence (required)